Back in the late 1800s, a very smart scientist discovered Anaglyphic Color Offsets as a way to create a 3D effect in printed images. You may not know that name, but you've seen the technology in action a thousand times in your life. Remember those red and blue glasses they hand out at 3D movies? That's Anaglyphic.
As time progressed, so did this impressive Anaglyphic 3D technology. Through the 1950s, we saw the emergence of movies processed with this similar technique, with a distinctly 1950s flair. Today, the technique is even better. It has expanded into several more modern ways to trick the eye to believe that images are leaping from the screen.
Thinking in 3D
The classic technique is still the Anaglyphic 3D process, also known as "stereoscopic." These are videos or still images that shift the red and cyan layers, offsetting them enough to create a 3D effect in the human eye. It may work on non-human eyes, as well. Unfortunately, we haven't yet made glasses for any of the massAV family of dogs and cats just yet, so that remains to be seen.
In humans, though, it does work really well. And although there are more sophisticated techniques of 3D production, the mad scientists at massAV have been experimenting with the classic approach with impressive results.
Anaglyphic glasses are inexpensive, as they are often made of simple paper and cellophane lenses. And although the image is slightly compromised in terms of colors, the 3D effect is certainly worth it. Not to mention they are classically fun, brand-able and easily disposable.
Imagine the sense of community you can create for your audience when everyone puts on their 3D glasses and prepares to share in an immersive video experience?
The good folks who develop our favorite editing and animation design programs have made this even easier for us. Today, we can output passive 3D effects like anaglyphic and polarized output. We can also create active 3D experiences using shutter glasses that use no color filtering and work very well with LCD screen technology.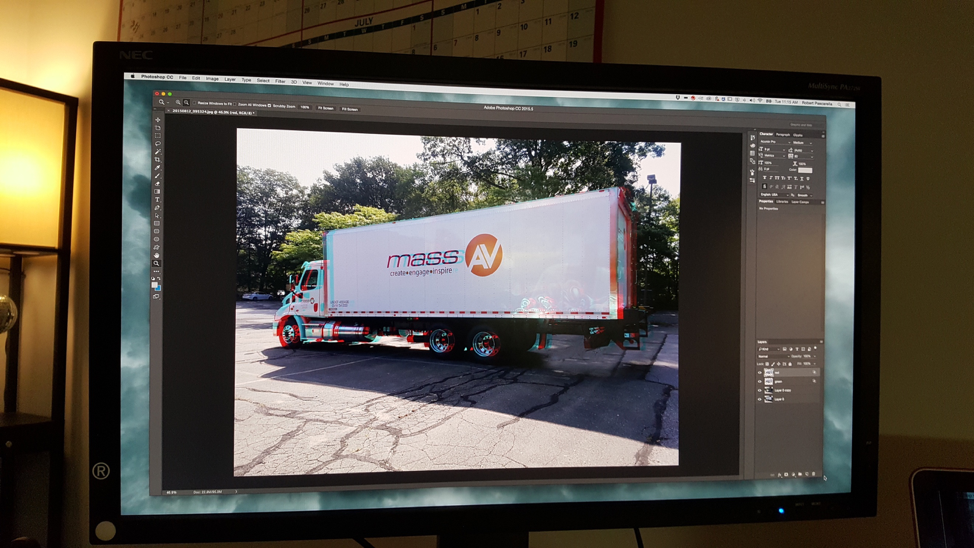 The anaglyphic technique applied to a photo. If you have 3D glasses, you should get them now.
Not only will you look cool in these glasses, but you'll experience video in such a unique and engaging way that will resonate long after the show is over.
We've taken this classic fun to new heights. At many events, we've used 3D opening experience videos with 3D printed signs, emails and more. Why live life in 2D when there is another dimension you and your audience can experience together?
Seeing 3D in action
At massAV, we are on a never-ending search for interesting experiential approaches to live events. Some may be born out of the 1800s and some just invented today, but they're always effective and affordable.
Visit massAV in Tewksbury, Massachusetts, to experience all three dimensions,and maybe even a fourth in our Cinema 4D animation suite.