At massAV, we employ an incredibly talented team of full-time event staging and AV experts. Members of this team travel wherever our client events take them. Once on-site, these event technology leaders bring our clients' vision to life through presentations, music, lighting and so much more.
The vast and specialized skillsets of these team members aren't only in high demand here at massAV, on occasion their technical talents take them beyond the average work week and into the field for some high-profile special projects. Recently, massAV Lighting Designer Tiago Degen-Portnoy was invited by a colleague in the industry to join American rock band My Morning Jacket on tour to help lead the technical facets of the band's lighting needs.
Tiago sat down for an interview to discuss his time on tour with My Morning Jacket, his work here at massAV, and how technical preparation and creativity must coalesce for a compelling lighting design to take shape.
You're a Lighting Designer at massAV, what does that role entail?
My days are evenly split between office work and field work. In the office, I pre-produce shows, maintain our inventory, make floor plans and room drawings, double-check gear lists, and recommend new gear to stay on the cutting-edge.
A collaborative effort is very important to me and the entire team at MassAV, so I make sure that I'm checking in with our art directors every step of the way. They help me keep to the client's vision. Our team of technical directors is also an invaluable resource for experience and safety-related questions. Every event we do is a team effort.
When I'm on the road, I set up, operate, and manage the lighting for a huge variety of shows. If massAV has lighting there, I've had my hands on it.
You just got back from touring with rock band My Morning Jacket. How was that experience?
It was a great learning experience. I feel lucky to have had this opportunity to learn new skills that we can put to use for our clients. And of course, getting to travel while you work can't be beat. We prepped in Nashville, did rehearsals in Denver, took the show up to Red Rocks, and then over to two venues in NYC to finish it up. It was a really fun, challenging opportunity where I got to work hands-on with different equipment, and learn new techniques from experienced people. Most of all, I got to bring back values and skills to massAV which will help us work more efficiently, more quickly, and at larger scale.
How did that opportunity come about?
Like everything else in this industry, it's about having a network. A colleague of mine was working on the My Morning Jacket tour and reached out saying they needed a lighting technician. He knew I had the skillset necessary to do the job and some flexibility with my work schedule, so everything just came together. The total process was about five weeks for me, from the first phone calls with the lighting designer to loading the last truck. This included just under a week of prep in Nashville, and some days off, so it wasn't all nonstop rock-n-roll.
Can you describe what your role during the shows was?
I was the lighting technician, so my responsibilities all had to do with the gear. I made sure that everything went where it needed to go, that anything that was broken got fixed, that the loading went smoothly, and that the lighting designer was happy.
I was lucky to work with such an experienced team on the road, and I learned some great tips and tricks, from programming techniques to management of large crews. Part of my new knowledge is less technical, and more design inspiration.
As a designer, I find myself looking for inspiration everywhere, so this experience was helpful for expanding my creative skillset, as well as giving my technical experience. I think my role as a technician on this tour, rather than a designer, also gave my insight and perspective into the teamwork and roles that the whole team must play.
I was also responsible for preparing the entire rig to go out on tour, which meant building the show in the warehouse, and making sure that it went together exactly the same way every time. There's no time to be figuring things out when you're loading in, so everything gets planned well in advance, from the order of cases in the truck to the color codes of cables, truss and fixtures. It's like choreographing a ballet of gear.
During the shows, I dealt with any malfunctions and was responsible for a few scene changes during the show. Most importantly, I was responsible for maintaining the safety of the lighting rig. Hanging thousands of pounds of equipment over the band means that every bolt and shackle has to be correct, so they all get checked by me. At the end of each show day, I helped clean up and prepared for load out.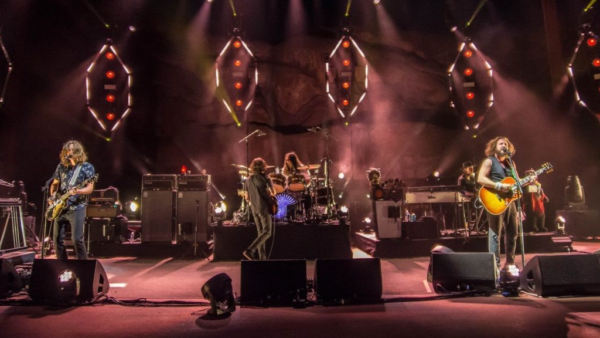 Credit: Jeremy Williams
What about in between shows – how did you spend your time?
Acting as a lighting technician on this tour was hard work. So in the few hours of downtime, I was either sleeping, (on the bus, in the hotel room, on the plane) or reading. I went through three or four books on this tour, which is a new record for me. I also found time to do laundry, stay up-to-date on my events back home, and prepare for the next venue.
What separates good lighting design from the rest?
For me personally, good lighting design is three things, in order of importance: it's effective, it's dynamic, and it's innovative. First and foremost, a lighting designer and a lighting design have a job to do. Whether it's expanding the expression of a performer, making a tent look like a magical forest, or making a host look good on camera, lighting design needs to be effective. If you can be nothing else, be effective.
If you can be effective and you have budget left over, be dynamic. A good lighting design is like a blank canvas for a creative lighting designer. Range of expression for a designer lets us be more effective in our execution, linking back to point number one.
Finally, compelling lighting design is set apart by innovation. The lighting industry gives us hundreds of tools in the form of hardware and software, and a great lighting design does something new with them, pushing the boundaries. We are the visual vanguard of our client, and if they're cutting edge and creative, we need to be too. Sound guys love to say that nobody goes home humming the light show, but people don't post sound line arrays on Instagram.
Any experiences producing the lighting design for My Morning Jacket that you're excited to incorporate into work for massAV clients?
Absolutely! Because of the scale of this show, the prep work we did was extensive. That's what taught me the most about preparing a large-scale show, so that it loads in and out quickly and efficiently. With these experiences from the tour under my belt, I'm excited to bring those skills back to my role at massAV as we take on more large-scale lighting events and load them in more quickly and efficiently than before.
In your mind, what does incorporating lighting design to a production add to the event?
Everything! I'm a little biased, but lighting is what brings an event from good to great. An event can have crystal clear audio, sharp projection, seamless custom content, and inspiring keynote speakers, but without effective, dynamic and innovative lighting, it's not special. Lighting design adds excitement, elegance, focus, and scale to a standard event, and makes it a production. Your guests feel special being there, your presenters feed off of the energy of the room, your message is amplified and your hard work feels like it really paid off at the end of the night. Lighting design adds a sense of overall atmosphere and satisfaction to an event.