We often say that very few of our shows are in our own city. That statement couldn't have been more true when we received a special request on Feb 22, 2017. One of our long-standing clients called us with a unique problem.
"We have a show in Kuala Lumpur, Malaysia and we need HELP."
This isn't such a rare request, believe it or not. massAV is accustomed to traveling across the country and sometimes around the world for international event planning, but there was more.
"We need someone to hire the crew, build and call the show, then strike it."
Okay, definitely not unusual. But wait, there's even more.
"It's in 4 days."
The silence that came over the call after that seemed to last for an eternity.
After the initial shock subsided, we accepted the challenge. The obvious choice for this assignment was our own, Aaron Brown, Senior Technical Director and noted man of action. Within the next several moments local Malaysian resources were being collected, plans and drawings started to flow and Aaron (Reno) Brown began a journey that would span 18,368 miles round trip over nine days. During the first four days prior to the show, we sourced an 11 man crew locally, which included audio, video, lighting and LED techs, camera operators and set and strike labor. Even at this pace, the pre-production work wasn't extraordinarily unique for Aaron and massAV, until the time came for Aaron to roll his sleeves up for five booster shots.
Then, before you could say "Where's Waldo?" Aaron was fighting through the worst Boston traffic of the year (which is saying something), making his flight at Logan by the skin of his teeth. Traveling through some of the world's most active airspace, Aaron finally arrived in Kuala Lumpur without incident and made quick work of the setup.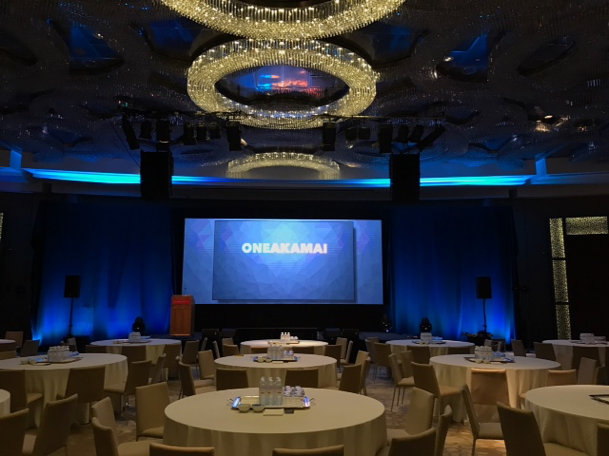 We often find that wherever you are on the globe, one thing you can be sure of is that event production is a universal language. So Aaron was over 9,000 miles away, yet right at home. But, you know you're not in Kansas any more when it's dinner time. When asked about the local cuisine, Aaron added "I walked past a local chef chasing a bird down an alley, kill it, bring it back to his grill." Understandably, Aaron kept his culinary experimentations to "what was described as a hamburger." It was pretty tasty!
After a resoundingly successful event (as usual) Aaron had a few free hours to explore the wonders of Malaysia, then it was back on the trek home. Reflecting back on this short marathon of long miles, we began to appreciate several key takeaways. First, Aaron Brown is a man of steel. Second, our clients trust us to solve their biggest problems with extremely short turnarounds, and we get it done. And lastly, if you are 9,265 miles away from Rhode Island and you're hungry, order the hamburger.